M2 NEUROPATHOLOGY LAB
QUIZ 6 (gross pathology)
Match the lettered case histories/descriptions with the numbered images 26-30.
A. Low-grade astrocytoma
B. The most common primary malignant brain tumor in adults.
C. Benign supratentorial extra-axial tumor.
D. Patient with unilateral hearing loss.
E. Bitemporal hemianopsia and Cushingoid features.
26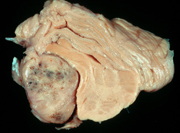 27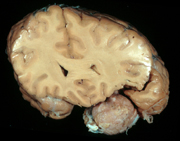 28
29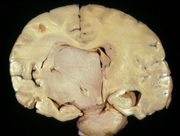 30
---
ALL LECTURE PODCASTS ARE EMBEDDED IN THEIR RESPECTIVE NEUROPATHOLOGY PAGES AND CAN ALSO BE FOUND ON THE VIMEO CHANNEL "DIMITRI AGAMANOLIS NEUROPATHOLOGY"