M2 NEUROPATHOLOGY LAB
QUIZ 15
Read case histories A through E. Write your diagnoses below.
Case A
Case B
Case C
Case D
Case E
Match the case histories with Images 71-75.
71
72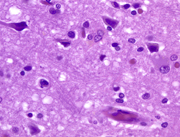 73
74
75
#74 is a myelin stain.
Case A
A 56-year-old woman developed paranoid ideas and difficulty naming objects. She lost vocabulary, and her speech became repetitive and stereotyped. She appeared anxious. Memory failure developed (though she could remember songs), and dementia set in. She became confused and withdrawn and began to perform ritualistic tasks. She had no seizures or motor deficits. Dementia progressed, and she died in a nursing home 7 years after the onset of her disease.
Case B
A 62-year-old man had tremor of the hands and head and rhythmic tongue protrusion. He became stiff and walked with small steps in a stooped posture. He was treated with L-dopa and other medications without significant improvement. Four years after the onset of these symptoms, intellectual deterioration and memory loss developed. He died in a nursing home at age 69.
Case C
A 58-year-old woman had a gradual onset of difficulty walking characterized by staggering, especially when walking in the dark. She had no history of alcoholism and was well nourished. Neurological exam revealed a wide-based gait and abnormal cerebellar testing. While gait difficulty progressed, tremor of the hands and difficulty writing appeared. She had a mask-like face. Treatment with sinemet was without effect. Then, she developed orthostatic hypotension and bladder incontinence. Mental status remained normal. She died 14 years after the onset of her illness.
Case D
A 70-year-old man developed progressive confusion, difficulty sleeping, and jerks of all limbs. The symptoms worsened and he lost fine motor control of both hands and became ataxic. He became confused and demented. Speech was an incomprehensible jargon. CSF was normal. MRI revealed mild cortical atrophy. EEG was abnormal. He died four months after the onset of his illness.
Case E
A 63-year-old man developed weakness of the left leg and then of the right leg and both hands. His grip became weak and he began dropping things. Weakness progressed, resulting in frequent falls. His voice changed and he began to drool and had difficulty swallowing. He became bedridden. There were fasciculations of his tongue. Deep tendon reflexes were hyperactive, and plantar responses were extensor. Intelligence and sensation were not affected. He had difficulty breathing and died three years after the onset of his illness.

ALL LECTURE PODCASTS ARE EMBEDDED IN THEIR RESPECTIVE NEUROPATHOLOGY PAGES AND CAN ALSO BE FOUND ON THE VIMEO CHANNEL "DIMITRI AGAMANOLIS NEUROPATHOLOGY"