M2 NEUROPATHOLOGY LAB
QUIZ 12
Match the lettered case histories/descriptions with the numbered images 56-60.

A. 53 year-old man with a 1 year history of choreoatherosis, personality change, and dementia.
B. 67 year-old patient with recent onset of dementia, incontinence, and abnormal gait.
C. 47 year-old woman with remitting and exacerbating multifocal neurological deficits for 6 years.
D. 79 year-old patient with rigidity, bradykinesia, and tremor.
E. 76 year-old patient with a 6-year history of progressive memory loss, disorientation, and dementia.
56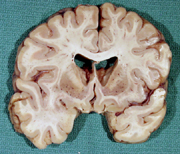 57
58
59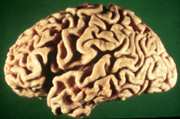 60
---
ALL LECTURE PODCASTS ARE EMBEDDED IN THEIR RESPECTIVE NEUROPATHOLOGY PAGES AND CAN ALSO BE FOUND ON THE VIMEO CHANNEL "DIMITRI AGAMANOLIS NEUROPATHOLOGY"