Dimitri Agamanolis was born in Mytilene, on the island of Lesvos, Greece, where he received his elementary and high school education.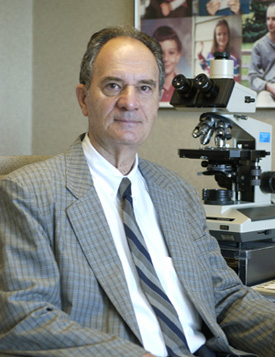 He graduated from the Medical School of the Aristotle University of Thessaloniki, in Northern Greece, in 1962. He came to the United States in 1968. He trained in Anatomical Pathology and Neuropathology at Cleveland Metropolitan General Hospital (CMGH) between 1968 and 1972. His teachers include Drs. Betty Banker and Maurice Victor. From 1972 to 1978, he was staff neuropathologist at CMGH and faculty (instructor and then assistant professor of Pathology) at Case Western Reserve University. In 1978, he joined the department of pathology at Akron Children's Hospital and the faculty of Northeast Ohio Medical University (NEOMED), formerly NEOUCOM. Presently, he is the vice chairman of pathology and director of Anatomical Pathology at Children's and professor of pathology at NEOMED.
At Children's, Dimitri Agamanolis developed a diagnostic Neuropathology and Myopathology Laboratory and a new Electron Microscopy Laboratory, and modernized the Histology Laboratory. He has also been instrumental in developing a diagnostic Molecular Laboratory.
At NEOMED, Dimitri Agamanolis has developed and directed a clinically oriented Neuropathology Course offered to year 2 medical students. He is program director of the Pediatric Pathology Fellowship at Children's. He consults and teaches at hospitals in the NEOMED consortium and is a consultant to the Summit County Medical Examiner and Trumbull County Coroner's office. In 1999, Dimitri Agamanolis was selected "master teacher" at NEOMED, an award that recognizes contributions in teaching at the Medical School and its affiliated hospitals.
Dimitri Agamanolis is certified by the American Board of Pathology in Anatomic Pathology, Neuropathology and Pediatric Pathology. In addition to his clinical responsibilities, he is a member of the Medical Education Committee, and has been chairman of the Credentials Committee and president of the medical staff at Children's.