M2 NEUROPATHOLOGY LAB
QUIZ 3
Match the lettered case histories/descriptions with the numbered images 11-15.

A. 60-year-old alcoholic man with headache, meningismus, fever, and CSF with 800 polys/cumm.
B. 60-year-old nursing home patient with a long history of remitting and exacerbating neurological deficits and dementia.
C. Severe neurologic deficit; no life threatening cerebral edema.
D. Ruptured intracranial aneurysm.
E. Sudden onset of headache, hemiparesis and coma. Blood pressure of 220/115.
11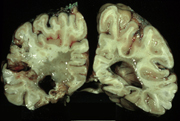 12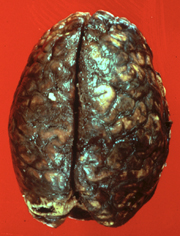 13
14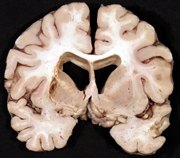 15
ALL LECTURE PODCASTS ARE EMBEDDED IN THEIR RESPECTIVE NEUROPATHOLOGY PAGES AND CAN ALSO BE FOUND ON THE VIMEO CHANNEL "DIMITRI AGAMANOLIS NEUROPATHOLOGY"