M2 NEUROPATHOLOGY LAB
QUIZ 13
Match the lettered case histories/descriptions with the numbered images 61-65.

A. Lifelong seizures and fatal intracerebral hemorrhage. Hemorrhagic CSF.
B. Diabetic coma, sinusitis and cerebral infarcts. CSF shows increased cells (polys and lymphs), elevated protein and low glucose.
C. Headache, fever, and stiff neck. CSF shows 850 neutrophils, increased protein, and low glucose.
D. History of IV drug abuse, low T4 lymphocytes, and dementia. Normal CSF.
E. Positive PPD, headache and cranial nerve deficits. CSF shows 89 lymphs, elevated protein and low glucose.
61
62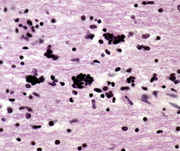 63
64
65
#63 is a PAS stain
---
ALL LECTURE PODCASTS ARE EMBEDDED IN THEIR RESPECTIVE NEUROPATHOLOGY PAGES AND CAN ALSO BE FOUND ON THE VIMEO CHANNEL "DIMITRI AGAMANOLIS NEUROPATHOLOGY"