M2 NEUROPATHOLOGY LAB
QUIZ 2
Match the lettered case histories/descriptions with the numbered images 6-10.

A. History of "migraine" headaches and seizures for many years. Recent severe headache and hemorrhagic CSF.
B. Patient with longstanding diabetes and hypertension.
C. 33-year-old patient with fever, confusion, bizarre behavior, seizures and a CSF with 120 cells (81% lymphs), and normal protein and glucose.
D. Hemiparesis, ten days after myocardial infarction.
E. 45-year-old male cocaine addict with a history of hypertension; sudden collapse into deep coma; pinpoint pupils and decerebrate posturing.
6
7
8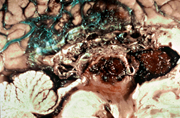 9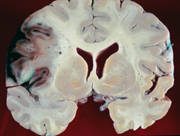 10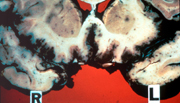 ALL LECTURE PODCASTS ARE EMBEDDED IN THEIR RESPECTIVE NEUROPATHOLOGY PAGES AND CAN ALSO BE FOUND ON THE VIMEO CHANNEL "DIMITRI AGAMANOLIS NEUROPATHOLOGY"