M2 NEUROPATHOLOGY LAB
QUIZ 8
Match the lettered case histories/descriptions with the numbered images 36-40.

A. Motor vehicle accident victim, unrestrained, without identifiable skull fracture.
B. Patient with left parietal GBM, temporal lobe herniation, and right homonymous hemianopsia.
C. Patient with severe headache. Arteriography reveals a ruptured MCA aneurysm.
D. Alcoholic patient with a history of fall and left subdural hematoma.
E. 6 year-old boy with acute lead poisoning, severe cerebral edema, and cerebellar tonsillar herniation.
36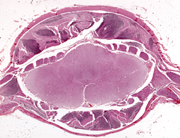 37
38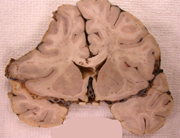 39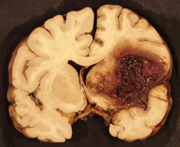 40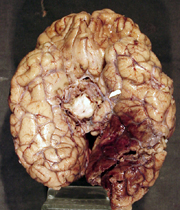 ---
ALL LECTURE PODCASTS ARE EMBEDDED IN THEIR RESPECTIVE NEUROPATHOLOGY PAGES AND CAN ALSO BE FOUND ON THE VIMEO CHANNEL "DIMITRI AGAMANOLIS NEUROPATHOLOGY"